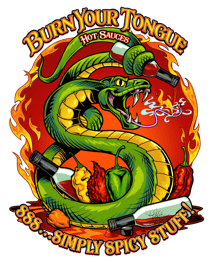 A Bit About Burn Your Tongue
We are a specialty retailer selling spicy sauces in Northern Utah. We sell our Superior Sauce Selection from several local consignment locations across the Wasatch Front.
BYT is THE Choice for Utah's Fiery Food Fans -
The HOTTEST Customers in Utah! Utah Chileheads!
Burn Your Tongue is Utah's Legendary Hot Sauce Leader!
Why Legendary? For over 13 YEARS, we have been quietly not so "hidden" inside The Quilted Bear in Ogden, UT. People either don't know or don't believe we are there! "You can get what where? Hot Sauce in the Quilted Bear!"
The other reason why we are Legendary? We have Utah's Superior Sauce Selection! Our selection is up to TRIPLE that of any other store location with hot & spicy sauces in the STATE! You'll find 100s of specialty sauces & salsa from unique, small batch, artisan creators! We start with local, Utah sauces from Logan to Lehi! Then, we bring in brands from the far corners of our creative Country. We have sauces and salsa from over half of the USA and several foreign countries! We Spread the Spicy Word!
From the "Mild" Jalapeno to the World's hottest pepper, The Carolina Reaper, we carry a sauce for every level of spice lover. We appreciate our fiery food fans - Utah Chileheads - and always thank you for your business and support. SSS... Simply Spicy Stuff!
Our Newest TV Appearance on Fox 13's The Place!
We appreciated being able to appear on local TV at Fox 13's The Place on November 3, 2022!
"Burn Your Tongue can help you celebrate International Hot Sauce Day on November 5! Roger Damptz, owner, joined us with a quick "trip around the world" with international sauces they carry at Burn Your Tongue. Hot Sauces are popular in all countries including our neighbor to the north, Canada, and in countries "across the pond" like Ireland, England and Scotland, as well as The Netherlands, Germany, France and Spain. Roger also told us about different varieties in South Africa and New Zealand.
Burn Your Tongue carries nearly 700 sauces from 10 different countries at their two largest locations, Painted Tree Boutiques in Orem and The Quilted Bear in Ogden. They also sell their sauces at spicy satellites in The Quilted Bear Draper and Local Gifts in Logan and Orem."
We thank everyone at fox 13 and The Place for their time and the segment! We will be returning on Tuesday, January 17th, 2023, just in time to celebrate America's National hot Sauce Day on January 22nd!
We also thank EVERY fiery food fan, #utahchileheads, for your continued business and support!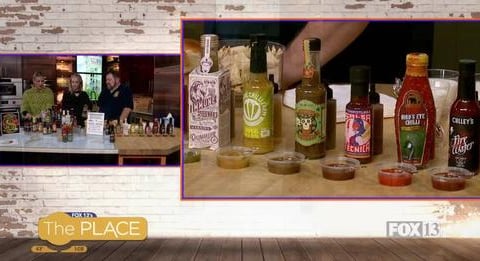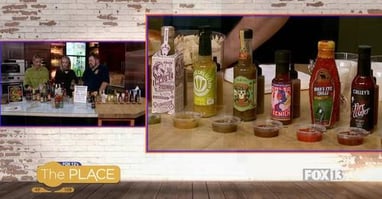 Our First TV Appearance - Good Things Utah! LIVE
Our first live TV segment on ABC 4 Utah -Good Things Utah - August 18, 2021 from 9:15 to 9:23 AM
We had such a fun time at Good Things Utah this morning! All three GTU hosts - Reagan Leadbetter, Surae Chinn and Nicea DeGering joined Burn Your Tongue Hot Sauces to sample spicy sauces from our superior selection of nearly 700 sauces available at our HQ inside The Quilted Bear - Ogden!
Supposed to be only five, we had so much fun we ended up with a nearly EIGHT minute segment! Here is the video write up from their website: "Things got a little spicy on GTU today with a visit from Roger Damptz, owner of Burn Your Tongue. Burn Your Tongue is Utah's Legendary Hot Sauce Leader. Our hosts can confirm this after taste-testing a line-up of Damptz's sauces! Damptz carries many different sauces with differing tastes and geographic influence. They have sauces from over half of the United States, Canada, New Zealand and Scotland.
Why is the sauce so hot? According to Damptz, spicy is not a taste like bitter, sour, salty, sweet or Umami. It is, in fact, Capsaicin that hits the pain receptors and causes the spicy effect. After tasting something spicy, cool down with milk, whip cream, bread, or sugar. We thank everyone at Good Things Utah and ABC4 Utah for their time and the segment! We also thank EVERY fiery food fan, #utahchileheads, for your business and support!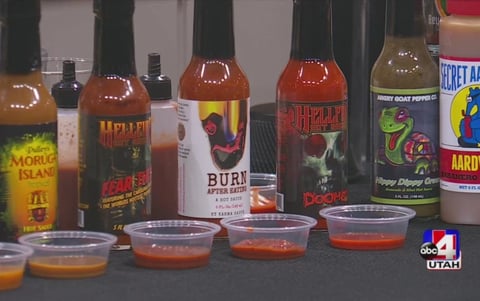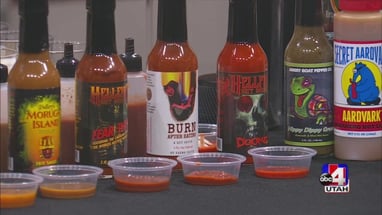 Our second live segment on ABC4 Utah Good Things Utah. Getting spicy on International Hot Sauce Day!
On November 5th, 2021, we revisited local TV channel ABC4 Utah and Good Things Utah.
It's International Hot Sauce Day! Can you handle the heat? Roger Damptz from Burn Your Tongue Hot Sauces stopped by to educate us on hot sauces from all over the world. As well as give the hosts a chance to test the strength of their taste buds.Surprisingly, Damptz says there is a science behind a really good hot sauce. The base for most hot sauces is Vinegar except in England, they use a Lacto fermented formula, a naturally occurring bacteria, but he says most people can taste the tanginess the bacteria gives.
In Africa, the sauces give a quick upper burn, but it drops off quickly as opposed to sauces that have a burn that lasts a while. A hot sauce does not need to be flaming hot in fact, the flavor is actually what brings customers back to buy the sauce. In Damptz opinion, the U.S. makes the best hot sauces, but hot sauces are a growing phenomenon around the world.
Nicea, Deena and Surae got to try these sauces from around the world first-hand! There seemed to be a consensus that the more "mild" sauces were less hot but packed with flavor. As they got to the hottest sauces, they dipped their crackers in sparsely and Nicea combatted the heat with a Hawaiian Roll dipped in milk. To see their full reactions watch the video below!
If you want to try these delicious hot sauces for yourself, check out the International sauce sections in the Burn Your Tongue Hot Sauces booths at The Quilted Bear, Ogden and new The Painted Tree in Orem.