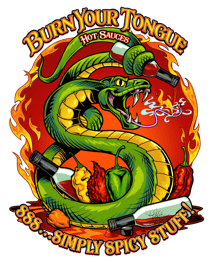 Bear River Bottling - Logan, Utah Food Elevated! #bearriverbottling
From their site: "It was a fateful night of random chance that Dr. Scoville—always equipped with a case of homemade hot sauce to share—met an equally passionate Mr. Q. The bottling brotherhood began as both agreed to join each other's journey down the rabbit hole of craft condiments. Their wonderful wives, however, had no idea what they were agreeing to (update: they still love us). Their recipes are developed in their own kitchens; perfected for yours. Based out of northern Utah's Cache Valley, these sultans of sauce focus on quality small-batch flavor above all else! Local, fresh ingredients are used as much as possible in our recipes with ingredient lists that spare no expense. Elevate your food game with our creative condiment cocktails and join us in our journey down the rabbit hole." We carry their entire line of sauces! Three BBQ, a Steak Sauce, Memphis Style Fry Sauce, then EIGHT Spicy Sauces, and GROWING! They make the largest line of Utah-made sauces and are a Utah #legendaryhotsauceleader Check out their website at www.BearRiverBottling.com - Free Shipping for online orders over $25!
Tonguespank Spice Co - Lehi, Utah #spankresponsibly
Tonguespank Spice Co is known for a large line of dry spice blends. We carry their three amazing, local, liquor infused sauces! Serrano Margarita Hot Sauce - A bright and fast Serrano pepper heat mixed with the citrus lime and local Utah small batch agave liquor make this margarita hot sauce a truly unique medium heat sauce. The lime, liquor and peppers will bring out the flavors in any fish, chicken, or pork dish! If you like Margaritas, you will love this spicy margarita homage! Smoky Bourbon Chipotle - If you like our smoky bourbon spice blend, you will love this rich, robust and bourbon infused hot sauce! While not as hot as some of our other sauces, it has a very robust and smoky chipotle & bourbon kick! Coconut Ghost Pepper & Spiced Rum Hot Sauce - The sweet coconut and spiced rum makes this perfect for fish and shrimp tacos, lighter meats and wings! Habanero and Ghost peppers together create a fast heat ghost pepper on one side, and the long-burning habanero on the other. Visit their site at www.tonguespank.com
Grandma Sandino's Sicilian Sauce - Murray, Utah You'll Love It or Else...
While not actually a hot sauce, GSSS is a 30 year local favorite filled with over a dozen herbs and spices!
This incredible Salt Lake City Weekly's Best-of-Utah awarded Italian Garlic Sauce is made with high quality all-natural ingredients! Made with 100% Olive Oil - NO Vegetable or Canola - with over a dozen herbs and spices, heavy on the Garlic, with 5 POUNDS added to every 13 Gallon batch! A seasoning NOT used? SALT - this sauce is Sodium FREE! It's also Gluten, Dairy, Corn, Soy, Nut, MSG, GMO and HASSLE FREE! Great as a marinade and tastes amazing on absolutely EVERYTHING! We proudly carry Grandma Sandino's Sauce.
In addition to the three sizes of their Olive Oil based "Vegi-Tarian" Garlic sauce; 250 ML Sampler, 500 ML Lover and 750 ML Addicted, we also have their four specialized dry spice blends - Garlic Butter Mix, Fish Sprinkle, Grandma's Rub and Herbal Dip & Spread. Visit their website at www.grandmasandinos.com
Utah's new Red Rock Salsa - Made in small batches using fresh ingredients!
From Red Rock Salsa: "We tinkered with our secret recipe for the past 35 years to get it just right. Inspired by the red rocks of our native Utah, our salsa has a sweet beginning that finishes with a spicy kick. We use a proprietary blend of tomatoes, jalapeño peppers, onions, green peppers, garlic. Then we simmer and spice it to perfection for a spicy medium kick."
Red Rock Salsa released their brand at the Sauce Lake City Fest and took home a first-place award for their "Medium" salsa! Now that's the way to come out of the gate! They also have, as do we, their Lime and Mild flavors. They are working on a Utah friendly "HOT" salsa as well! www.redrocksalsa.com
Utah's Own newest sauces! Uncle Chainsaw's Hot Sauces!
Just like the last room at a Haunted Attraction, the new #uncle_chainsaw brand unexpectedly jumped out with a scream into the #utah hot sauce scene! In just the last few days, Italian restaurant chef-owner Kevin Correnti quickly crept onto the local sauce scene, but with meticulous, killer planning, already having the Utah's Own logo on his sauce labels! Read the Utah's Own write up:
"Uncle Chainsaw's makes chef driven hot sauce with unique twists on classic styles. Our flavors and heat are just as intense as the art on our bottles!It is our main focus at Uncle Chainsaw's Hot Sauce to make hot that focuses primarily on flavor over (the) heat. Don't get us wrong, the heat is most definitely there, but we want our sauces to taste great and not overpower your food or taste buds. We don't believe in being spiciest just for the sake of being spicy. Our sauces compliment your food and give just the right amount of heat. We do not use any additives, chemicals or stabilizers of any kind. No funny business in our sauce, just real ingredients bottled by hand."
The graphic graphics are inspired by hard core heavy metal art! Uncle's first two releases are going to be the Scassa La Bocca, a nearly ten-year restaurant tested sauce and the Terrifyer, a RED Chili and Garlic sauce! These exciting new, Italian-styled, sauces are perfect to release during the Halloween season, with the new Terrifier 2 movie in theaters! Speaking of sequels, Uncle Chainsaw has FOUR more sauces coming out over time to keep your tastebuds tantalized for some time!
UPDATE! At Burn Your Tongue Hot Sauces, we are incredibly excited and very grateful to the newest Utah's Own hot sauce brand - #uncle_chainsaw - for giving us a limited, early release of their next TWO sauces!
Originally planned to release on their new website in the Spring, chef-owner Kevin Correnti has graced BYT with a couple of cases of each of his TWO new sauces! We have the new "Aloha & Mahalo" (Hello/Goodbye and Thank You) and "Staring at the Sun" - "Aloha & Mahalo" is a Pineapple Habanero sauce with Turmeric - "Staring at the Sun" is a bright yellow Habanero Turmeric sauce highlighted with Lime!
While also featuring Death Metal inspired art, these sauces are focused on #flavorfirst! These sauces can be enjoyed by #metalheads for the art, any #utahchileheads for the spice or any #utahfoodie for their fantastic flavors! We have all FOUR fiery flavors of Uncle Chainsaw's sauces at the The Quilted Bear - Ogden - The Quilted Bear Draper, Utah and at Locals - Orem locations. These two new flavors are coming to our Logan, Utah #cachevalleychileheads at our Locals - Logan location soon!
Flaming Homer's Hot Sauce!
Since the Sauce Lake City Fest back on Father's Day 2022 (Prepare now to attend the 2nd Annual SLC Fest on Father's Day 2023!) we have been impatiently waiting for Flaming Homer's Hot Sauce to be ready!
We now have the FOUR Flaming Homer's Hot Sauces at our locations in The Quilted Bear - Ogden, Quilted Bear Draper, Locals Gifts Orem and Locals Gifts Logan* (* Strawberry Atomic Balsamic coming soon!) We have Benjo's Louisiana style Habanero, Pineapple Habanero and Extra Hot Scorpion and Ghost Pepper sauces! We recently got our hands on his new batch of the amazing #carolinareaper #strawberryatomicbalsamic sauce and spread them around! www.flaminghomers.com
As #utahslegendaryhotsauceleader we are proud to carry local Utah made products and are very excited by the exceptional growth of hot and spicy sauces in Utah this year! We are so happy that now, more than ever, you can find #morethanjustfrysauce in Utah! We proudly serve #utahfieryfoodfans - #thehottestcustomersinutah - our #utahchileheads! Thank you for your business and support!
We are looking for more unique Utah made spicy sauces & salsa! We are looking for upcoming, independent creators that want to work with us as partners in bringing more uniquely Utah made spicy sauces and salsas to our Fiery Food Fans - Utah Chileheads! Do you have a spicy food product, not distributed in local grocers, that needs more exposure to the local spicy sauce market? As long as it's ready for Resale, we would love to have your local Utah products on our spicy sauce shelves! Contact us!