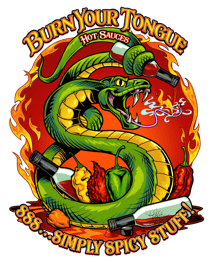 Through December 31, 2022, Burn Your Tongue has FIVE locations across the Wasatch Front to serve our fiery food fans - Utah Chileheads!
Now FIVE locations to serve Utah Fiery Food Fans!
Searching for spicy sauces or unique gifts for you or your fiery food fan? Discover hundreds of fantastic fiery flavors at our newest FIFTH location!
We placed our newest location, with our ENTIRE
superior sauce selection of nearly 700 fiery food
flavors, at a new Burn Your Tongue Hot Sauces booth,
F16, inside the newest vendor store in Utah,
The Painted Tree Boutiques in Orem.
For over 13 years, our original "Superior Sauce Selection" of nearly 700 sauces is still available in The Quilted Bear, Newgate Mall, Ogden!
Through December 31, 2022, we also have three spicy satellite locations with 300 to over 400 sauces each!
Locals Gifts - 1050 N Main St in Logan
Locals Gifts - in University Place Mall in Orem
The Quilted Bear - Draper, Utah
Find out about new products and other updates faster online at www.facebook.com/burnyourtongue
We thank all of our fantastic Fiery Food Fans for your business and support! THE choice for Utah Chileheads!